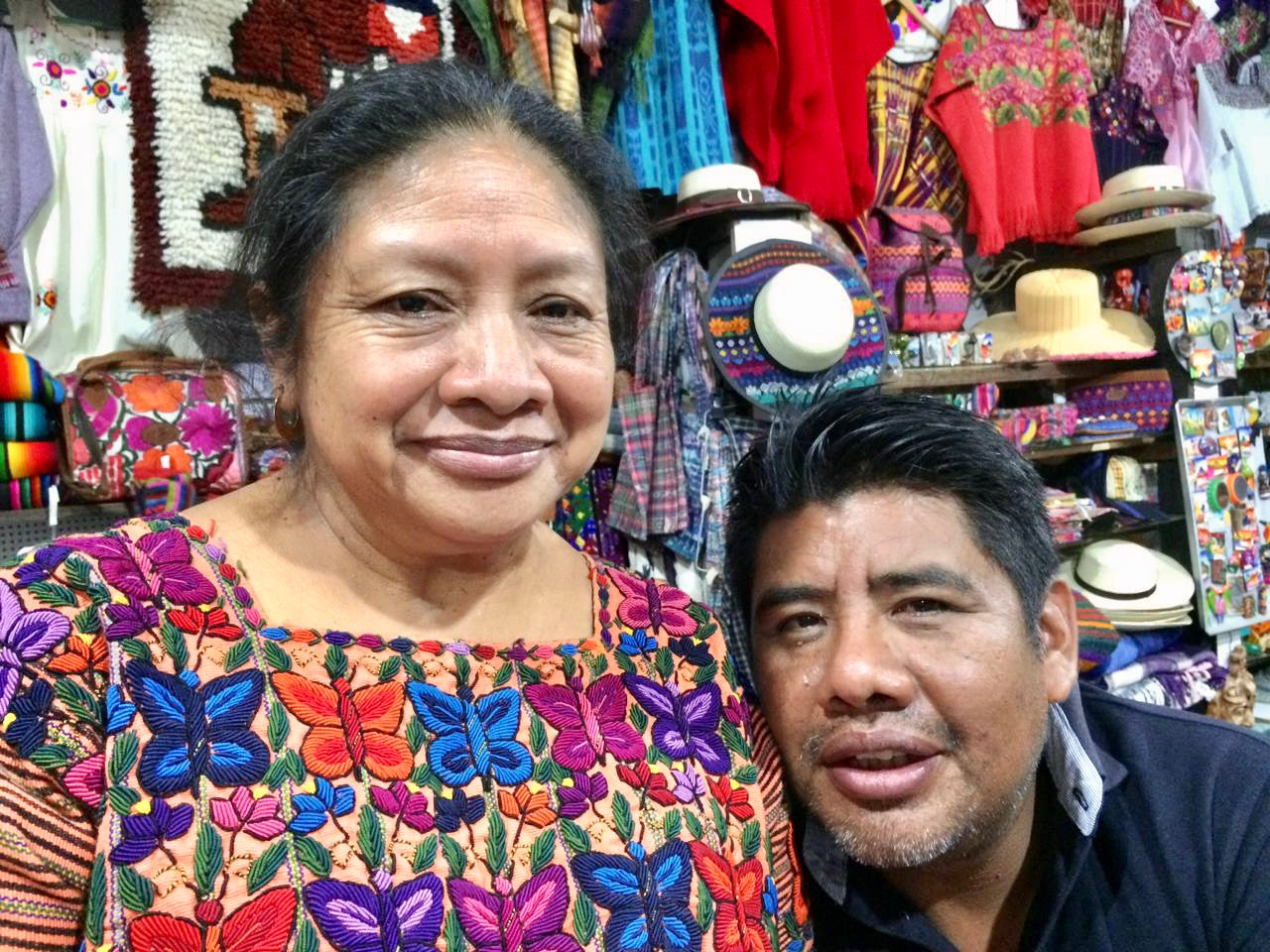 Servín Sotz (Artist)
Pictured here is Servín with his wife Vilma. This couple lives in Santa Catarina Barahona, Sacatepéquez. Their niece Dulce sells Servín's work in a small market in the central plaza in Antigua, Guatemala. Dulce utilizes a small space in a local market and was able to negotiate low stall fees. Servín's father (Dulce's grandfather) encouraged his sons to learn to make traditional Mayan paintings as well as other goods in order to earn a living. Servín is an incredibly dedicated artist, whose family works hard to help him sell his art.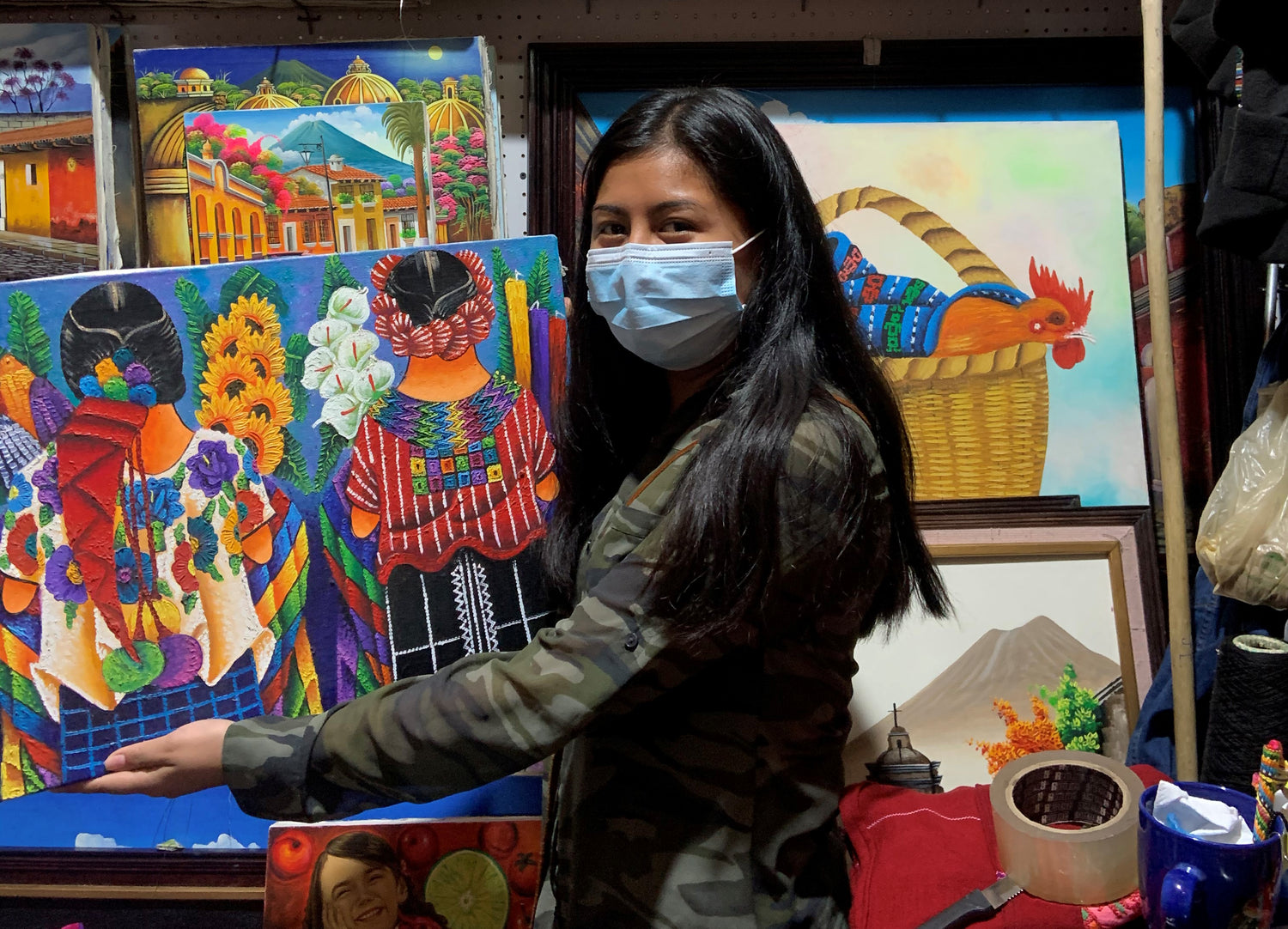 Dulce Caná (Vendor)
Dulce (Servín's niece) works to sell her uncle's artwork in the central plaza in Antigua, Guatemala. This is Dulce's main form of income. Since the business is kept within the family they are able to retain a large share of the profits as opposed to selling through middlemen. Dulce was excited to receive the opportunity to sell to Arte con Impacto because the number of tourists and art sales in Guatemala sharply declined during the pandemic.
Mariano Morales (Artist) & Glinda Morales (Vendor)
Glinda is a vendor who sells the art of her cousin Mariano Morales and a few of her friends. This arrangement allows Glinda and the artists to maximize profit and avoid working with many middlemen. Glinda lives in Sololá, which is close to Lake Atitlan. Since this is a popular tourist destination, Glinda was able to access a large market prior to the pandemic. Mariano dedicated years to learning from other local artists to perfect his craft. Glinda often sells the art with her son Ian, who loves helping his mom in her shop.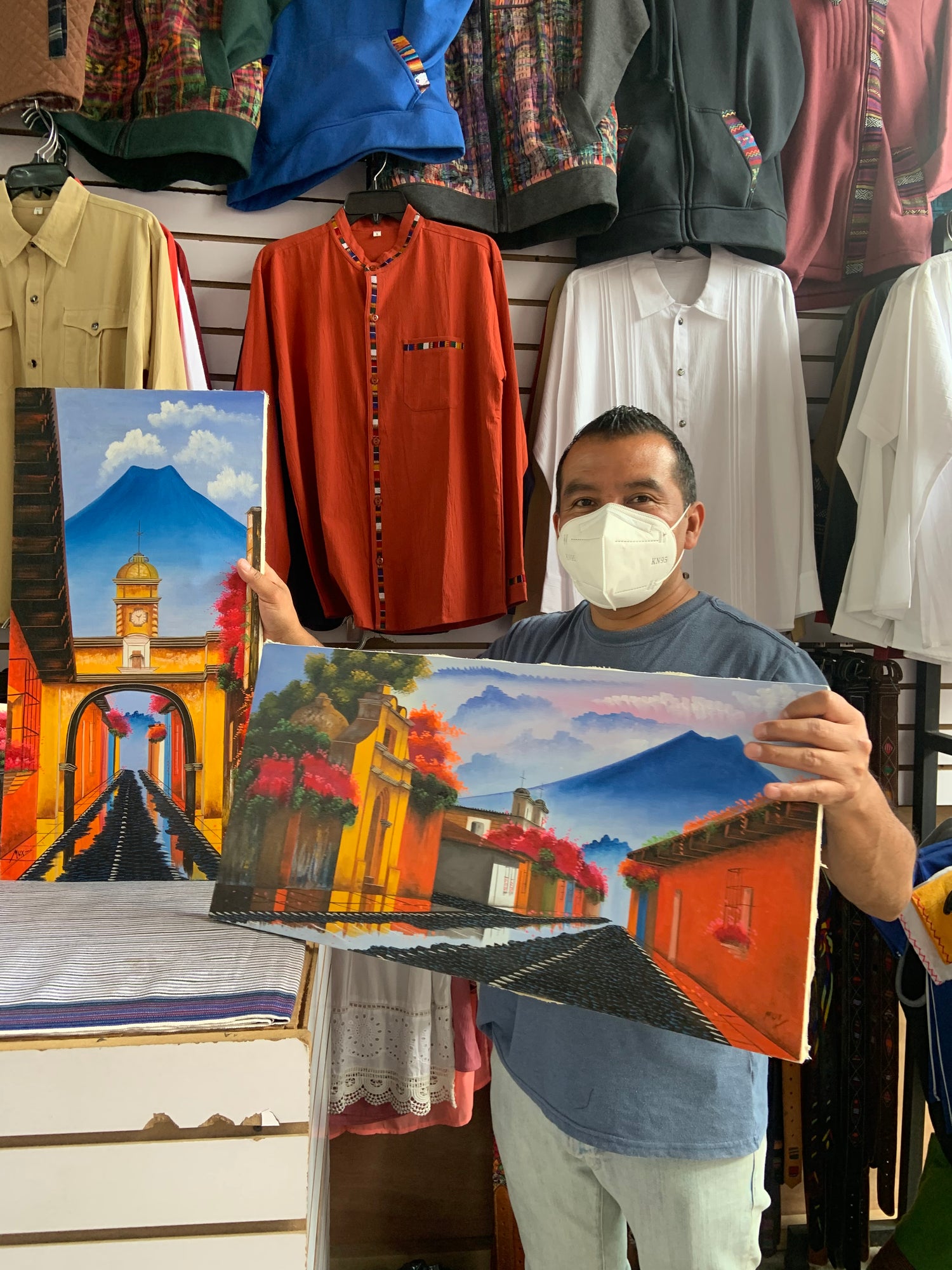 Israel Garcia (Artist) & Ricardo Panjoj (Vendor)
Israel is an artist who specializes in pieces centered on the city of Antigua. With beautiful landmarks such as the Santa Catalina Arch, Iglesia de la Merced, and Acatenango Volcano there is no shortage of scenic views in this city. Israel paints in the city of Chimaltenango, which is around 30 min away from Antigua. Instead of traveling to Antigua, where there is a large tourist population, Israel relies on his friend Ricardo Panjoj (pictured here) to sell his work. Ricardo operates out of a small market near popular restaurants and other tourist locations within Antigua. This location allows Ricardo to reach a larger market than Israel would be able to operating alone.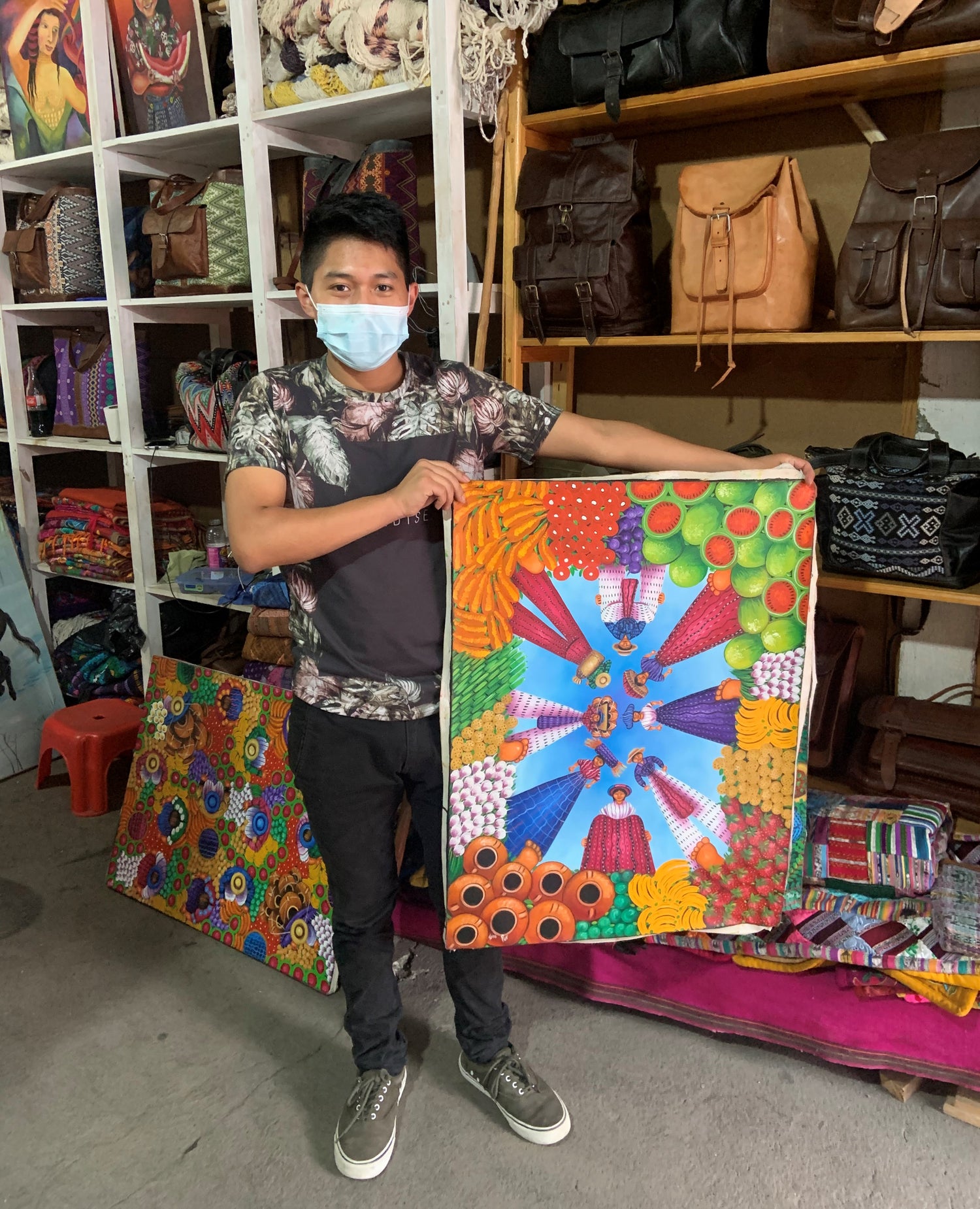 To Puv (Artist) & Alfredo Perez (Vendor)
Alfredo (pictured here) is a vendor who sells the work of a few of his friends, primarily To Puv, in a small shop in Panajachel near Lake Atitlan. Unfortunately, Alfredo has lost many of his customers due to the decrease in tourism during the pandemic. In addition to paintings, Alfredo sells traditional Mayan bags and tejidos (fabrics). To Puv's work often centers around Guatemalan harvests (as seen in the picture). To Puv gets his inspiration from the beautiful fields and fertile land around Lake Atitlan.
Carlos Pérez (Artist) & Maribel Pérez (Vendor)
Carlos and his wife Maribel Pérez work together to sell Carlos's work outside the Iglesia de la Merced in Antigua, Guatemala. This church is a popular tourist spot, but since they sell on the street the couple is able to avoid market fees and keep costs low. Carlos and Maribel live in San Antonio with their children, but they are originally from San Juan. They have worked hard to reach a larger market within Guatemala under the business name Bellas Artes Indigenas (Beautiful Indigenous Art). Much of Carlos's art centers on capturing the beautiful sights in Antigua, as well as depicting Mayan traditions.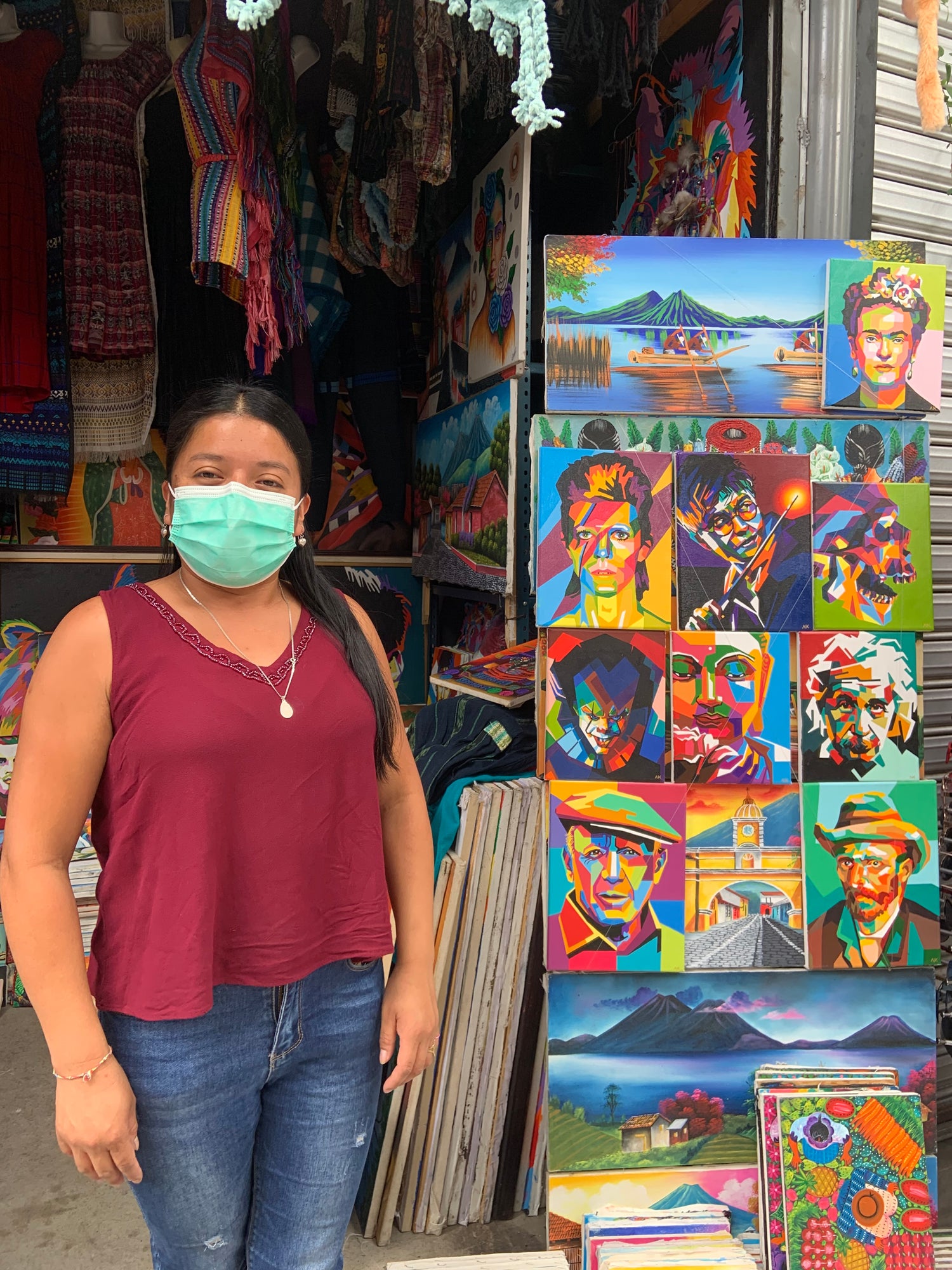 David Guarcas (Artist) & Maria Guarcas (Vendor)
Maria is an art enthusiast who sells her uncle David's artwork in Panajachel. David has an incredibly unique style and tends to use a lot of neon colors. He is also known for his portraits of famous figures, such as Frida Kahlo, which is not common for Guatemalan artists. Most Guatemalan artists prefer to paint landscapes and other Guatemalan landmarks. David's rare painting style, incredible talent, and Maria's kind and resilient personality are just some of the reasons we chose to support this amazing family.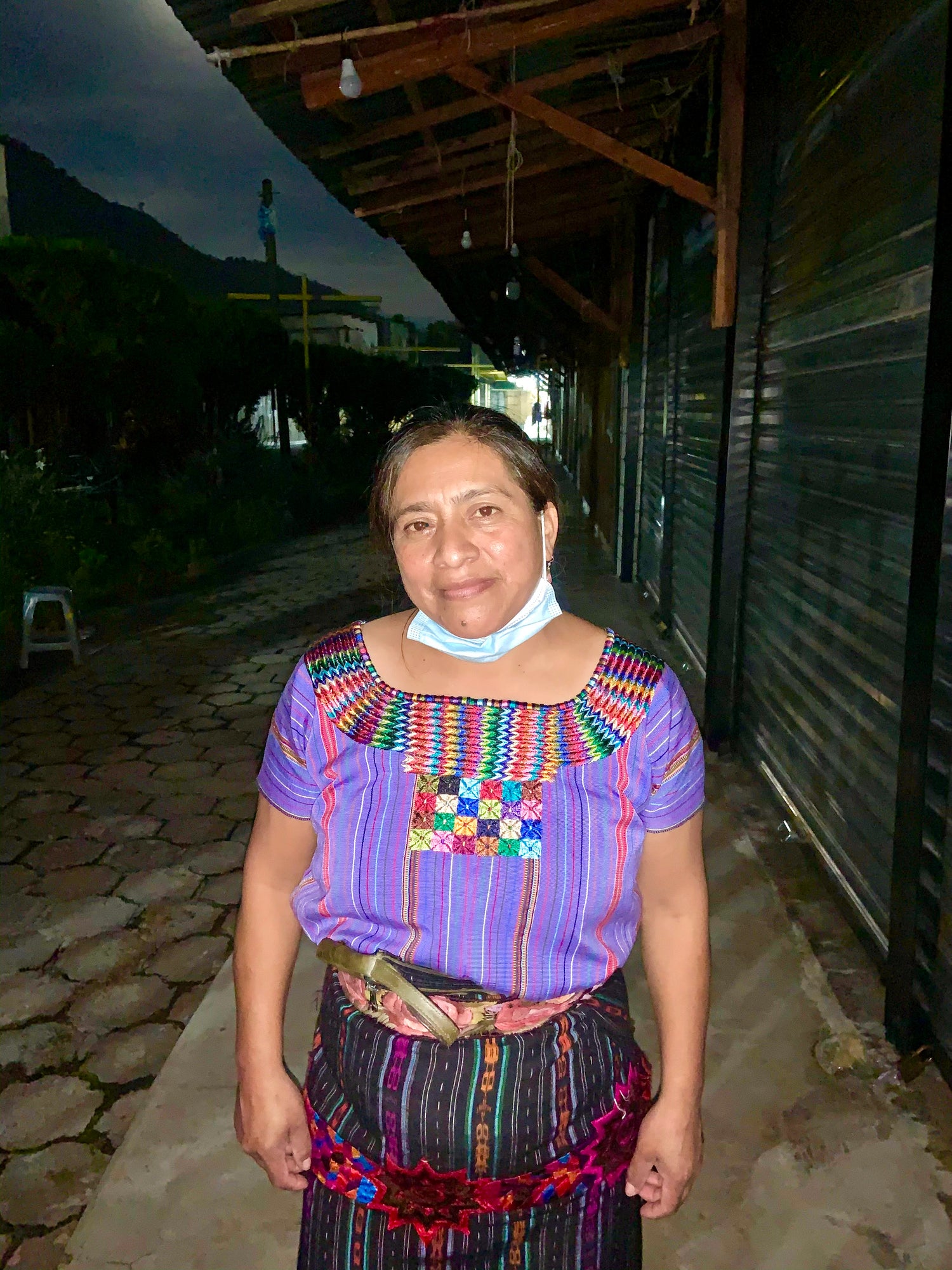 Elena Mendoza (Artist) & Manuela Marcario (Vendor)
Manuela works as a vendor in a small market on the streets of Panajachel near Lake Atitlan. Manuela sells the work of a few of her friends, primarily Elena Mendoza, whose work is incredibly unique. Mendoza uses layers of oil to create a raised, textured surface on her pieces. The extra supplies and time that are needed to achieve this style make her pieces valuable and very detailed. Manuela's two sons help her sell art by interacting with customers, putting artwork on display, etc. They are both knowledgeable about Guatemalan artwork and hope to pursue careers in the arts.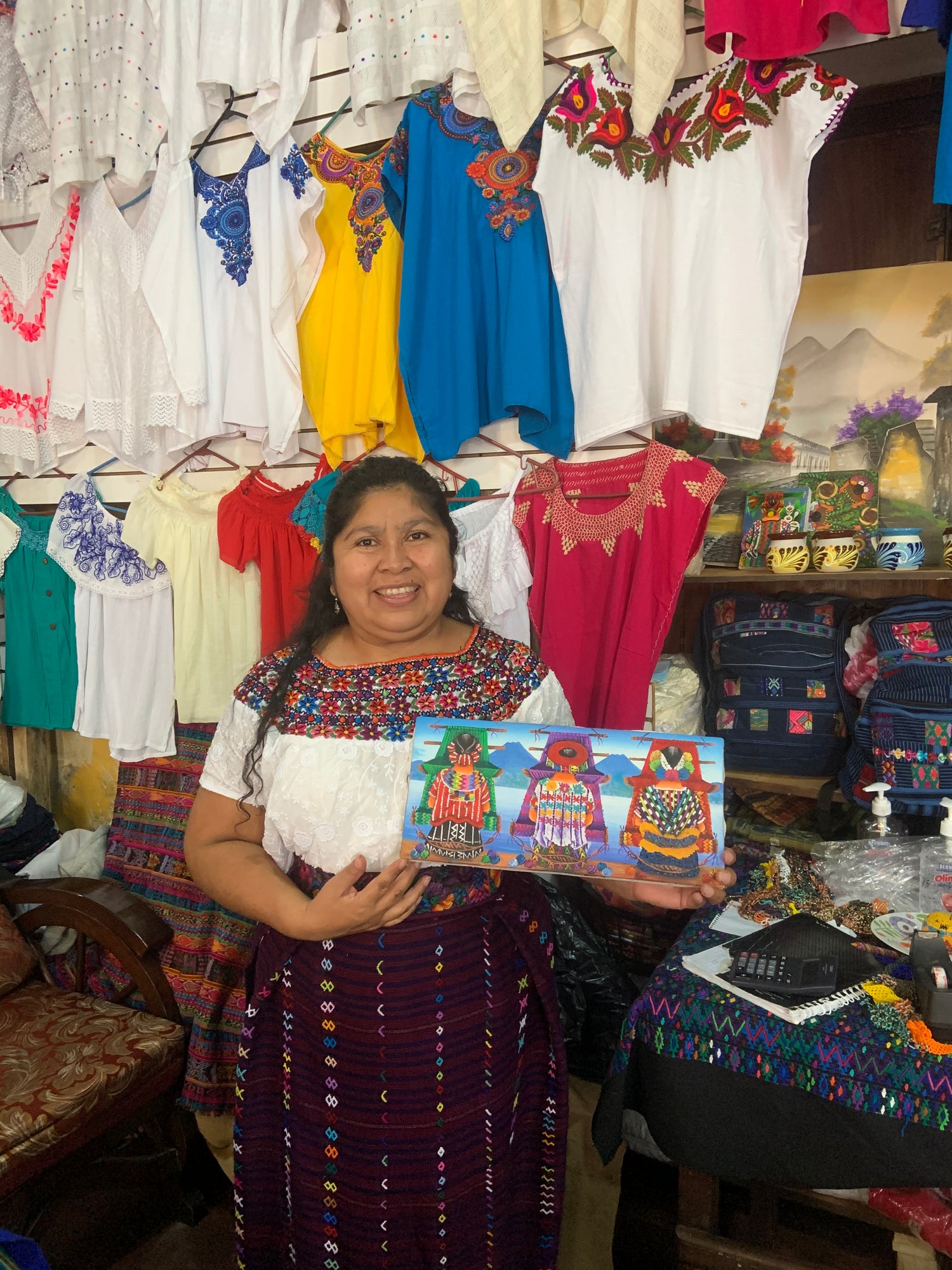 Lubia Hernandez (Artist & Vendor)
Lubia is an amazing artist who sells her work through a small shop on the streets of Antigua, Guatemala. This shop allows her to reach tourists who are looking to take a piece of Guatemalan culture home with them. She learned how to paint from other artists in the main plaza located in the center of Antigua. Instead of working for someone else, she wanted to gain skills that she could use to support herself. In addition to painting, Lubia weaves traditional Mayan tejidos (fabrics), which can be seen in the background of her photo.
Daniel Rodriguez (Artist) & Rosa Rodriguez (Vendor)
Rosa is a vendor who sells her brother Daniel's work in a small stall on the streets of Antigua. Since she lives in Antigua she has access to a larger market than her brother. Although her brother makes all types of artwork, his small pieces are truly special. These pieces contain a high level of detail relative to their size, which is hard to create. Painting these intricate details takes precision, skill, and lots of time. Rosa herself enjoys weaving tejidos (fabrics) and other traditional Mayan clothing.